Christmas has always been my favorite time of year. It is especially fun when children are young.  Who can resist the joy of seeing little loved ones' faces light up as they discover the thrill of an exciting new toy?
However, in today's gadget-giddy world, when I shop, I am very careful to keep a second list: batteries! It seems everything needs batteries. You simply can't pick up a toy without seeing that tiny print in the corner, "batteries not included." I can just picture the pitiful scenario. I buy the perfect toy and wrap it beautifully. The child unwraps the toy and squeals in delight. Moments later, we discover that the toy, attractive and filled with potential, simply cannot do what it was made to do. I didn't supply the batteries!
Becoming All that God Created You to Be
Full of Promise
When it comes to today's toys, batteries are the equivalent of life or death. A toy may look appealing. It may have all kinds of bells and whistles and be packed full of promise. Yet, without batteries, it can do none of the things it was designed to do.
In a way, we are like that toy. God created us for a purpose and filled us with promise. However, without "batteries" – the true Light of God – we remain only an empty shell of all that we were intended to be. Ever since Adam and Eve rebelled against God in that garden paradise so long ago, every human being is born spiritually dead: without light or true life. But praise God that He does not abandon us there. Through the gift of His Son, God came down from Heaven to fill us with His light and His love.
Embracing the Light
Jesus declared, "I am the light of the world. Whoever follows me will not walk in darkness, but will have the light of life." (John 8:12)
God desires to fill us with His Light and His love—to fill us with Himself.
"But because of his great love for us, God, who is rich in mercy, made us alive with Christ even when we were dead in transgressions. For it is by grace you have been saved, through faith—and this not from yourselves, it is the gift of God— not by works, so that no one can boast." (Ephesians 2:4-8, selected)
Father: thank You for the precious gift of Your Son. Thank You for giving me life through Christ even when I was dead in my sins. Help me, Lord, to walk in a manner worthy of You. Fill me with Your light and Your love as You send me into our lost and broken world – not only during Christmas but all the year through. Amen.
May our loving Lord bless you and yours this Christmas and through the year. Things may look different, but not one stroke of the pen in God's Book has changed. He still reigns, He still saves, and He is still coming back. . .
Do you need some fresh ideas to help kick-start your Quiet Time"? Get your FREE guide: 7 Simple Ideas to Refresh Your Quiet Times. If you're looking for something more hands-on, I am also available for virtual coaching. May the Lord bless you as you seek to grow closer to Him!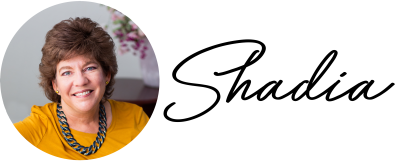 Shadia is a passionate Bible teacher, author and speaker who has a heart for seeing lives transformed by the power of God's Word. She holds a master's in biblical and theological studies from Western Seminary and is author of the powerful "Behind the Seen" Bible studies series, including TAMAR, HAGAR, and LEGION.