Enjoy Shadia's story, fun facts, favorites – and blooper reel!
Growing up,
I never imagined I'd become an author, but I was certainly a bookworm, to which a shoebox full of "Reader of the Year" awards my mother saved can attest. I've always loved to read … and still do. But there was one Book I never opened until years later. Because I was not raised to believe in God, I was 30 years old the first time I began to read the Bible. And oh, what a treasure I found! If only I had found it sooner . . .
My teenage and young adult years were filled with both good and bad choices – triumphs and tragedies. Abortion, date rape, substance abuse, marital abuse and divorce left many wounds and scars. And yet, it is precisely these heartaches that God has gently used to invite me to know Him more—to deepen my faith and fall in love with Him again and again.
God gives me courage to share some of my stories in the Bible studies I've written, such as: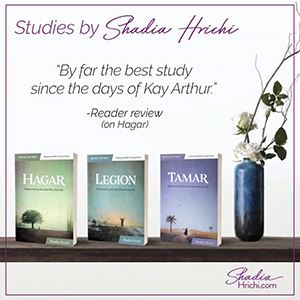 I love studying and teaching the Bible – especially the amazing, but messy, stories of real people who faced real problems. In addition to receiving a masters in biblical and theological studies from Western Seminary, I received a masters in criminal justice from the State University of New York (I'm a nerd at heart). But God's Word is so beautiful, I'll never tire of reading it. Even before I entered seminary, God opened the door to begin a speaking ministry to share the beautiful truths of Who He is and His power of redemption.
In the beginning, I was often invited to speak for pregnancy centers. While speaking for pregnancy centers remains a deep passion and joy, God has since broadened the ministry to have me speak at conferences, churches, and women's retreats. From there, God has invited me to serve Him by serving writers. In fact, I have a whole page specifically for writers, complete with workshops, such as Am I Ready to Write a Bible Study?, as well as coaching and other services. But perhaps my favorite is serving women's groups by joining them for virtual "Q&A and Get to Know the Author" zoom meetups.
The truth is that I love digging deep into the Bible and sharing what God teaches me. In fact, one reader compared me to a scuba instructor—gently guiding readers into the beautiful depths of God's Word. I've only been scuba diving once (it was cool!), but my two favorite pastimes are studying the Bible and visiting the ocean. Perhaps it's a suitable analogy after all.
Are you ready for deeper waters? Come with me!
Let's Brave the Deep Together!

Now you know a little of my story. If you'd like to know me a bit more personally, keep reading!
Fun Facts
Ten fun facts you probably don't know about me:
1. I suppose first things first. My name is pronounced Shah-dee-uh Her-ee-she​ (accents on "Shah" and "ee"). It's Arabic and it means "Singing Birds," which makes me laugh since I can't sing to save my life. However, I learned that it also means "Beautiful Voice," which, as an author, I decided makes it okay after all.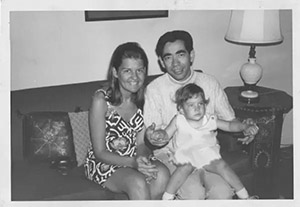 2. I was born in Manhattan, NY. The firstborn child of immigrant parents. My Dad immigrated from Morocco and Mom is from Latvia. Perhaps only in New York City could two people from two different hemispheres come together.
3. Just before I turned two, my little brother entered the world. Had I known he would one day graduate from the Culinary and open his own restaurant, I probably would have been more generous with my candy.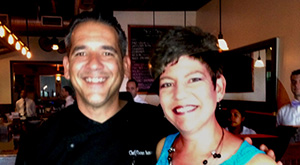 4. Next to reading, my favorite thing to do as a child was puzzles. Whenever mom would buy me a puzzle, no sooner did she turn around that I had finished it. She'd then go buy me the next one. Though I do not have as much leisure time as I used to, I still enjoy puzzles whenever I get the chance.
5. As I was growing up, my family moved more times than I can remember – across states, across the country, even across the ocean! From New York to Las Vegas, to Morocco, back to New York, to Queens, and then upstate New York, where I spent the better part of my young adult years before eventually moving to northern California.
6. You'd think with all of that traveling, I'd have some sense of direction. I don't. As a matter of fact, I get lost … a lot. Since the Bible teaches that God determines the time and place that each of us are born, I wonder if He waited until the invention of GPS before sending me into the world just to give me a fighting chance. (Even so, it lies to me all the time.)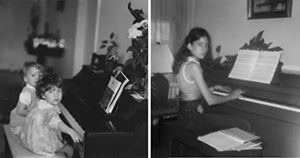 7. Though I have no natural musical ability, I've always loved the piano. If my family visited someone's home that had a piano, I just had to touch the keys. When I was fourteen, my mom, then a single parent, managed to scrape enough money together to buy me a piano and lessons. Though I didn't improve much, I will always remember her sacrifice.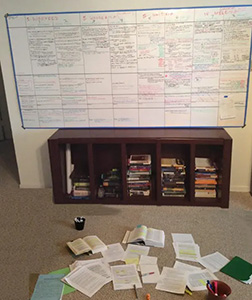 8. Perhaps because of years spreading out puzzles across the living room floor, my favorite place to work on my writing, especially in the early stages of a new Bible study is on the living room floor (which always invites a scolding from my chiropractor). I spread out my notes, research papers, Bible, pens, highlighters, and get to work on figuring out how all the pieces fit together.
9. When I started seminary, I worked full-time at an Airport as a property manager while attending classes in the evenings. About halfway through seminary, I was laid off from my job – not once, but three times! It was the same job, but funding was limited. Every time they called me, I would go running back … until God asked me to let go, saying, "Trust Me. I will take care of you." After much prayer, I quit my job and entered seminary full-time. And God kept His promise.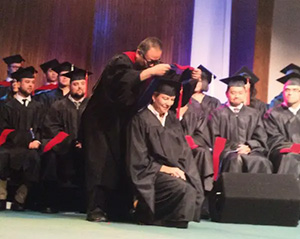 10. Though I published my first book in 2010, it was not because I set out to write one. As a matter of fact, I wrestled with God as He sought to draw it out of me … after all, the story is messy. But whose life isn't messy at times? (If yours is not, please email me). Perhaps that is why I am attracted to messy stories in the Bible, like Tamar, the daughter-in-law of Judah who disguised herself as a prostitute – and became the first woman listed in the lineage of Christ! Or  Hagar, the mother of Ishmael by Abraham, or Legion, based on the fascinating story of the demon-possessed man living in a graveyard (talk about messy!). Get all the "Sneak Peeks" when you Join my "Brave the Deep" email community.
P.S. Please don't buy me a plant. It's a death sentence. They say you should talk to your plants, so to the few that are still hanging on, I always whisper to them, "good luck." (Even my silk plants tremble when I walk by.)

Favorites
If you've come this far and still want to know more (or are simply procrastinating to get back to whatever you really need to be doing), here's a list of my "favorites."
1. After the Bible, my favorite books are "Knowledge of the Holy" (non-fiction) by A.W. Tozer and "Redeeming Love" (fiction) by Francine Rivers.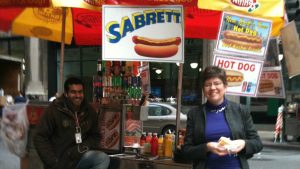 2. My favorite food is Calamata olives (from the grocery's olive bar, not a jar). I'd run out of milk before I'd run out of olives. Exception: if I'm visiting NYC, I must stop to get a Sabrett hot dog. My father once told me that as a child, I could spot a Sabrett umbrella a mile away and, even if it was nine o'clock in the morning, I would beg and plead until he bought me one (which he always did 🙂
3. My favorite compliment I ever received was after I gave a short presentation at a speakers conference, a fellow attendee said, "You make me want to read God's Word more." It just doesn't get any better than that!
4. My favorite sound (ok, I actually have two) is birds singing in the morning and the pure silence before the thunderous crash of ocean waves.
5. Favorite leisure activity is strolling through street fairs (tasty food, arts, crafts … as long as there is food.)
6. Favorite musical instrument (I think you can guess this one). The majority of worship songs in my preferred music playlist include the distinct sound of a piano. I'm hoping I get to play the piano in Heaven. Since I'll be there a long time, I figure I'll have to get good at it eventually.
7. My favorite nighttime snack is popcorn (with real melted butter) and a big glass of orange juice (with lots of pulp).
8. I love cartoons. Although I do not own a TV, when I am in the mood for some silliness, I'll turn on my laptop and watch some of my favorite cartoons: VeggieTales and Penguins of Madagascar. My favorite line is when Larry the Cucumber said, "I heard they made a real Mess o'Potamia." 😉
9. I could easily list 10 "favorite" worship songs, but some recent additions to my playlist include "Still Rolling Stones" by Lauren Daigle and "Gratitude" by Brandon Lake.
10. My favorite Bible verse is one I have treasured from the very first year I met Jesus, which is Psalm 126:6. "Those who go out weeping, carrying seed to sow, will return with songs of joy, carrying sheaves with them." (NIV)

Bloopers!
Ok, friends. This is a first for me, but the bloopers that happened during the TAMAR Bible Study video production are too good not to share . . . Enjoy the 1-minute blooper reel by clicking here or on the image below!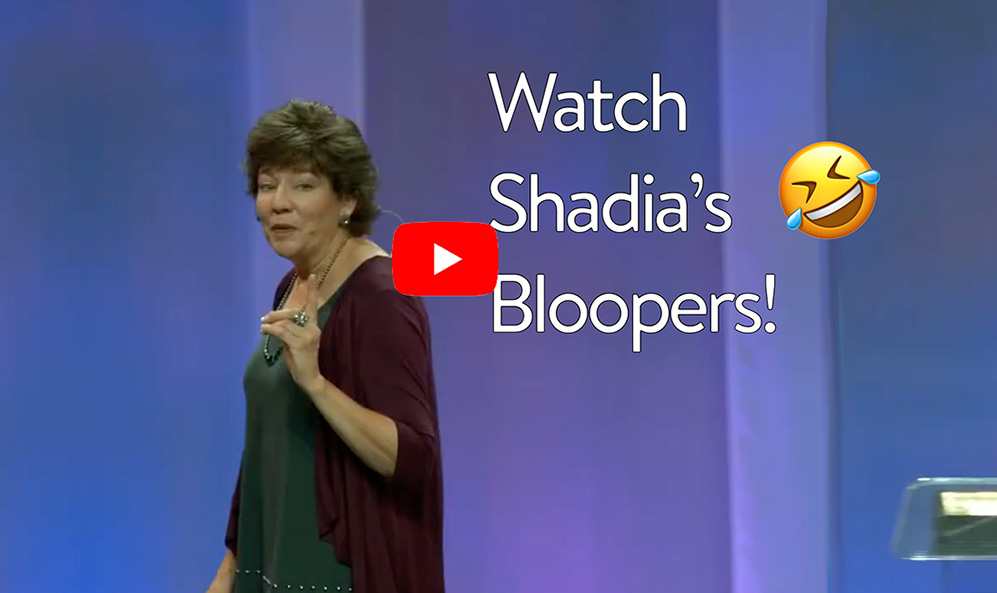 Let's Brave the Deep and Build our Faith Together!