Is God calling you to deeper waters?
Has this ever happened to you?
You open your Bible, but quickly become distracted.
You want to dig deeper, but you don't know where to begin.
Frustrated, you close the book. It's not that you don't love God—in fact, you long for more intimacy with God.
Maybe God is calling you to deeper waters . . .

Hi, I'm Shadia and I believe you can experience deep and refreshing engagement with God's Word, even if you've read it many times before.
Imagine opening God's Word and becoming so engaged that you actually lose track of time.
Imagine digging deep into God's Word and seeing it come alive in ways you never experienced before.
Imagine starting each day—not with a tiny nugget of truth you hope will get you through—but with a fresh encounter with the living God.
Let's Brave the Deep and Build our Faith Together.
Rediscover the joy of digging deep into God's Word through fresh insights, study tips, and practical application.

Finally, an original bible study that no one else has done. I LOVED it! So thought out, so educational, so personal . . .
BM, Amazon Reviewer
This has been by far the best study for me since the days of Kay Arthur. The truths run deep to my heart . . . and stay.
MY, Amazon Reviewer
Unlike many women's studies of today, this is NOT fluffy, 'Bible light'. If you are looking for a study that will both encourage and challenge you, this meaty study will satisfy your longing for something deeper. It is beautifully and thoughtfully constructed with a lot of 'heart' behind it. I've been teaching Women's Bible Studies for 30 + years and this is one I heartily recommend.
Christina, Amazon Reviewer

I remember when I sensed that "first love" begin to fade. I longed for deeper intimacy with God, but didn't know how to get it back. I read His Word, but it no longer penetrated my heart. I blamed myself: I wasn't disciplined enough or spiritual enough. Eventually, other things crowded in. I knew God had more for me, but I was missing it.
Thankfully, God did not abandon me there. He provided a mentor who cheered me onward in my faith. I took classes at church, devoured deep Bible studies, and kept a journal to remind me how far God had taken me. And I prayed for a deeper hunger for His Word.
God answered that prayer. He opened my eyes to people in the Bible who felt unseen or unloved. Their stories remind me of God's love for me! The more I dig deep in His Word, the more I am in awe of His majesty and love. It's like falling in love with Jesus all over again. That can happen for you, too!
I can help.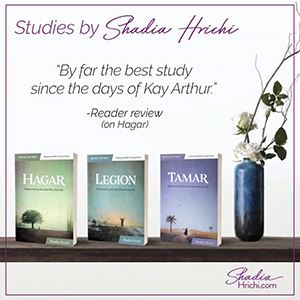 After seminary, I began writing the Bible study series, BEHIND THE SEEN: Exploring the Bible's Unsung Heroes. Maybe you're like me and are intrigued by the messy stories in the Bible–stories of people who are often overlooked. Like Rahab, a Canaanite prostitute who ends up in the ancestry of Christ, or Tamar, the girl who prostituted herself to her own father-in-law, or Hagar, the runaway slave girl, or the man living in a graveyard rescued from an army of demons. Gritty stories of real people with impossible challenges whose lives intersect with the One who overcomes the impossible. In every story, God was working behind the seen. (All studies include optional teaching videos.)
RAHAB: Rediscovering the God Who Saves Me is a brand new 6-week in-depth Bible study based on a former Canaanite prostitute, who who witnessed no miracles, knew none of God's laws. She merely heard of God's power – and believed. Not only is Rahab highlighted in several key faith passages in the New Testament, but she is listed in the lineage of Christ! But the best part? Rahab's story is our story. 
TAMAR: Rediscovering the God Who Redeems Me is a 6-week in-depth Bible study of a teenage Canaanite girl whose bold choices altered the trajectory of human history. Winner of the 2022 "God's Word is Alive" Award and second place winner for the AWSA Bible Study of the Year Award. Endorsed by best-selling authors Liz Curtis-Higgs, Francine Rivers and many others.
HAGAR: Rediscovering the God Who Sees Me is a 7-week in-depth Bible study that reminds us even when you feel rejected and alone, the God Who Sees Me will never abandon you there. Endorsed by Bible Study Magazine (Faithlife/Logos Bible software), Francine Rivers and many others.
LEGION: Rediscovering the God Who Rescues Me is an action-packed 6-week in-depth Bible study based on the man rescued from an army ("legion") of demons. Endorsed by Dr. Bennett, the director of the Women's Center of Ministry at Western Seminary, best-selling authors Francine Rivers and Susy Flory, and many others.
I've been a student of the Bible almost all my life and am familiar with this story, yet am amazed at the freshness and so many eye-opening moments as I worked my way through this study!
Carole, Amazon Reviewer
Legion is truly one of the best bible studies I have ever done. It's meaty, thought provoking, and inspiring. Shadia does a great job weaving scripture together and pointing out details that I never noticed before.
Danielle, Amazon Reviewer
Are you ready to rediscover the joy of digging deep into God's Word? Are you ready for deeper waters?
Let's Brave the Deep and Build our Faith Together!