Online Bible Study
Tamar: Rediscovering the God Who Redeems Me
Nothing can thwart God's plan for your life
—not even you.
If God can choose the Canaanite Tamar to continue the line through which Christ would come, can anything keep Him from weaving your story into His redemptive plan?
Tamar, daughter-in-law of Judah, is the first woman listed in the lineage of Christ. Mistreated, widowed twice, betrayed, and used as a prostitute… it seems impossible that God could redeem her story, but His plan of redemption was prewritten for all eternity-and nothing can get in His way.
Through this six-week, in-depth Bible study, you will discover that no matter life's twists and turns or your sins and failures, there is a God working behind the seen, redeeming it all for His glory.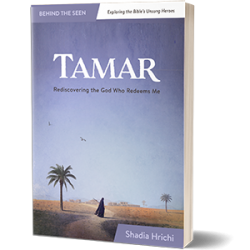 In TAMAR: Rediscovering the God Who Redeems Me, you will…
See what it would take for you to choose to hand over the one thing that would prove you were in the right like Tamar, a teenaged Canaanite girl who God chose to weave into the lineage of Christ regardless of her past
Discover fascinating biblical insights by diving deep into God's Word
Fall in love with Jesus all over again as you rediscover that even when life takes a turn, there is a God Who Redeems Me
When you join an Online Bible Study, you will appreciate the convenience of engaging in God's Word at the time and place that works best for you. To enhance your time in the study, enjoy the video teaching sessions (look for the book plus videos Bundle option!), exclusive content (watch for Bonus Freebies!), and so much more!
Through this six week in-depth Bible study, you will find that His plan of redemption was written from eternity past—in spite of the dysfunction, failure, and sin that He knew would unfold along the way. And for reasons known only to Him, God chose to invite Tamar into His glorious plan.
NOTE: You'll want to add ministry@shadiahrichi.com to your email address book (this will help your email provider recognize the sender address)
Learn About the TAMAR Study in this 1-Minute Preview

Format
The Online Bible Study for TAMAR: Rediscovering the God Who Redeems Me:
Schedule: The online study takes the six week study and stretches it over twelve weeks, allowing two weeks for each chapter (week)
Daily Commitment: Participants choose their own commitment level: Light (15 minutes/day), Moderate (30 minutes/day), In-Depth (45 minutes/day), or All-in (60 minutes/day)
Teaching Videos: 7 dynamic teaching videos, ranging from 15 to 25 minutes per session, are included and will remain available until 60 days after the conclusion of the study
Zoom sessions: Join Shadia live on zoom each Monday night at 6pm PST starting Sep 12th. Sessions are recorded to watch later if you miss a live session.
What to Expect
Immediately after you sign up for the study, watch your inbox for the welcome email with all the details to help you get started. Then, when the study officially begins on September 12,2022 you will begin receiving a series of study-related emails, once each week, to guide and encourage you on your twelve-week journey through the study. Because this content is exclusive to the Online Bible Study participants, you'll want to watch your inbox so that you don't miss any posts (important: you'll want to add ministry@shadiahrichi.com to your email address book).
Next Steps
When you sign up for the online study, you will be mailed a signed printed copy of your personal study guide, Tamar: Rediscover the God who Redeems me.  In addition, you will have immediate streaming access to the first video teaching session, with subsequent videos added every other week. These resources, coupled with direct live interaction with Shadia via zoom each week, is worth well over $199. Through this online Bible study, your cost is only $34.99 for all 12 weeks ($24.99 if you already have a copy of the book).
Sign up today – and invite some friends!
STARTING SEPTEMBER 12, 2022 ~ SPACE IS LIMITED

As an all-in woman, I love the depth and breadth of the questions to consider, the Bible verses to ponder, the word studies to review, and the compassionate unfolding of Tamar's story. When you go Behind the Seen with Shadia, you are in very good hands!
LIZ CURTIS HIGGS- Best-selling author of Bad Girls of the Bible
After going through Shadia's Bible study on Hagar, I couldn't wait to see what she would do next. Tamar is another outstanding Bible study, rich in historical detail, cultural insights, and applicable life lessons for us today. I appreciate Shadia sharing personal stories from her own life (some heartbreaking, some amusing), which help shine light on Tamar's story. Perfect for personal and/or group study.
FRANCINE RIVERS, international best-selling author