Online Bible Study
Registration Closed
How far will Jesus go to rescue one lost soul?
Climb into the boat with Jesus as He heads into enemy territory. Witness Jesus's power and passion as He battles violent storms and armies of demons in order to rescue . . . one . . . lost . . . soul. Tormented, chained, and living in a graveyard, the man had no one to help him—no one to intercede for him. So Jesus goes Himself.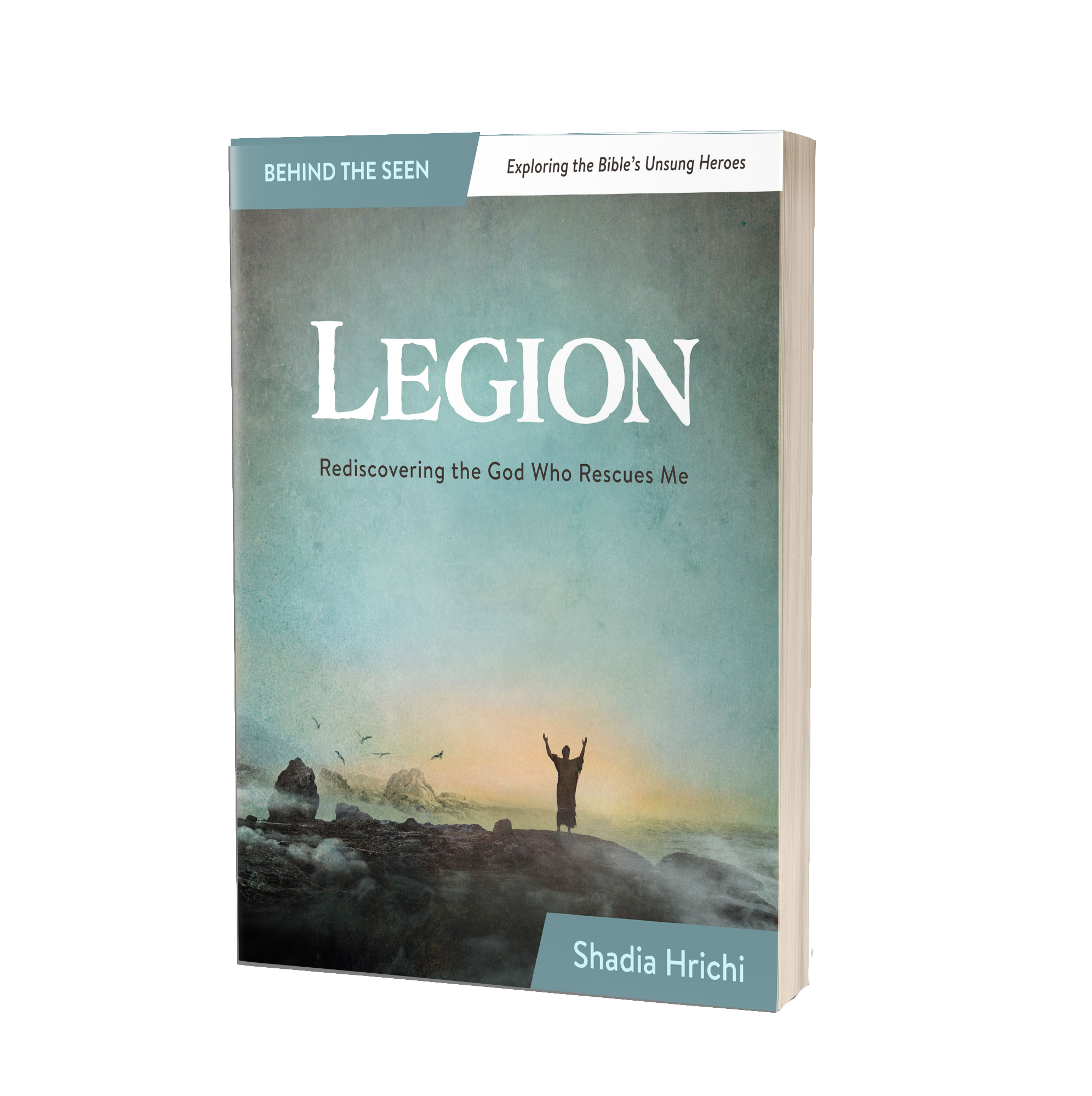 In LEGION: Rediscovering the God Who Rescues Me, you will…
Experience God's relentless love through the story of a man known only by the name of the demons that tormented him
Explore challenging questions such as: If God is good, why does He allow evil to exist?
Rediscover how far our impassioned Savior will go in order to rescue one … lost … soul
When you join an Online Bible Study, you will appreciate the convenience of engaging in God's Word at the time and place that works best for you. To enhance your time in the study, the online study includes recorded weekly zoom meetings with Shadia where you get to ask questions that matter to you, unlimited streaming access to all of the Legion video teaching sessions until 60 days after the conclusion of the study, optional participation in a private Facebook group, exclusive content (watch for Bonus Freebies!), and so much more!
Through this interactive twelve week, action-packed Bible study, you will experience God's relentless love as you celebrate the impassioned Savior Who moved heaven and earth to rescue you. Zoom sessions will take place each Monday evening, starting February 7th, at 6pm PST. (Note: Space is limited) Please note: This study is closed. Our next Online Bible Study is opening soon. Visit here for details!
Learn About the Legion Study in this 1-Minute Preview

Format
Details for the Online Bible Study for LEGION: Rediscovering the God Who Rescues Me:
Schedule: The online study takes the six week study and stretches it over twelve weeks, allowing two weeks for each chapter (week)
Daily Commitment: Participants choose their own commitment level: Light (15 minutes/day), Moderate (30 minutes/day), In-Depth (45 minutes/day), or All-in (60 minutes/day)
Teaching Videos: 7 dynamic teaching videos, ranging from 15 to 25 minutes per session, are included and will remain available until 60 days after the conclusion of the study
Zoom sessions: Join Shadia live on zoom each Monday night at 6pm PST starting February 7th. Sessions are recorded to watch later if you miss a live session.
What to Expect
Immediately after you sign up for the study, watch your inbox for the welcome email with all the details to help you get started. Then, when the study officially begins on February 6, 2022, you will begin receiving a series of study-related emails, once each week through May 1st, to guide and encourage you on your twelve-week journey through the study. Because this content is exclusive to the Online Bible Study participants, you'll want to watch your inbox so that you don't miss any posts (important: you'll want to add biblestudy@shadiahrichi.com to your email address book).
Next Steps
When you sign up for the online study, you will be mailed a signed printed copy of your personal study guide, LEGION: Rediscovering the God Who Rescues Me. In addition, you will have immediate streaming access to the first video teaching session, with subsequent videos added every other week. These resources, coupled with direct live interaction with Shadia via zoom each week, is worth well over $199. Through this online Bible study, your cost is only $34.99 for all 13 weeks ($24.99 if you already have a copy of the book).
Sign up today – and invite some friends!
Starting February 6, 2022 ~ Space is limited
Registration currently closed

"Shadia has written another outstanding study. Legion is rich and in-depth. I learned so many new insights; several even brought tears to my eyes, which is rare for me. This study is well written, well organized, and packed with valuable life lessons. I can't wait to read the next one!"
FRANCINE RIVERS, international best-selling author
"Shadia has proven again and again to be such a gifted Bible teacher. This is a powerful study … of one of the most overlooked and misunderstood miracles of Jesus. If you want to get to know God better, Shadia is a wonderful guide."
SUSY FLORY, New York Times Bestselling Author
"Legion is truly one of the best bible studies I have ever done. It's meaty, thought provoking, and inspiring. Shadia does a great job weaving scripture together and pointing out details that I never noticed before."
"The depth of Shadia's studies always take me deeper in my walk with the Lord."