Is God a friend of sinners? When I was an unbeliever, I was familiar with some of the more famous Bible stories, such as Noah and the Flood, Moses leading the Israelites in the Exodus, or Abraham and Sarah receiving God's promise of a son. I also knew there was a man named Jesus who some claimed rose from the dead. None of these stories attracted me to God or the Bible. 
While Scripture reminds us that no one can come to God unless He draws them Rahab had not been raised in a community of believers or worshiping the God of Israel. Yet, the stories of how the Lord saved His people from slavery and gave them victory over their enemies did not fall on deaf ears. Had someone told Rahab that God would one day call her into His covenant family and weave her into the ancestry of the Savior of the world, can you picture her laughing out loud? With her shameful past, surely she could never have imagined that God would choose someone like her.

Jesus, Friend of Sinners

Have you ever experienced a time when you felt that your past disqualified you from serving God in some way? Maybe you are wrestling with these thoughts right now. How can you be encouraged by Rahab's story? What truth from God's Word do you need to be reminded of today? Take a few moments to read and reflect on 1 Corinthians 1:26–31.
Did God Forgive Sinners?
Rahab was a prostitute. I was a party girl. The Israelites worshiped demons (Num. 25:1-3). If not having a shameful past is a requirement for being chosen by God, there would be no one left to choose. God is not ashamed of those He redeems. He loves to take the broken, the sinful, and the outcast and transform them into witnesses of His power and grace. How else will the world recognize His marvelous grace? [end here or continue be in (John 6:44), sometimes I wonder what might have happened had someone taken the time to tell me about the unsung heroes of the Bible—heroes like Hagar, the runaway slave girl who gave God a name; or the demoniac who became the first gentile evangelist;  or Tamar, who, disguised as a prostitute, conceived twin sons by her father-in-law and ended up in the ancestry of Christ. Or Rahab—a prostitute living in a wicked city who helped Israelite spies in their quest for the Promised Land. Maybe nothing would have happened. Maybe everything would have changed.
All I know is that I can relate much easier to these kinds of stories. The stories are messy, the characters made mistakes, but in the end, God redeemed each one of them. There is something beautiful about seeing God at work in the messy stories. 
In the New Testament, the theme continues. Jesus invited people just like Rahab to follow Him. He was often accused of shocking behavior, including breaking the law and even being demon-possessed! Jesus Himself acknowledged what people were saying about Him: "Look at him! A glutton and a drunkard, a friend of tax collectors and sinners!" (Matt. 11:19). 
A friend of sinners. What a beautiful title for the Savior of a fallen world.
"Greater love has no one than this, that someone lay down his life for his friends." —John 15:13
This excerpt is from Week 5 of RAHAB: Rediscovering the God Who Sees Me.
Order your copy today!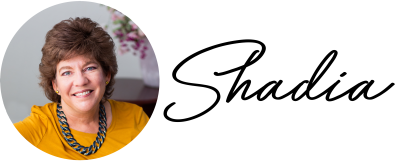 Shadia is a passionate Bible teacher, author, and speaker who has a heart for seeing lives transformed by the power of God's Word. She holds a master's in biblical and theological studies from Western Seminary and is the author of several books and Bible studies, including HAGAR, LEGION, Worthy of Love and her newest study, RAHAB: Rediscovering the God Who Saves Me!